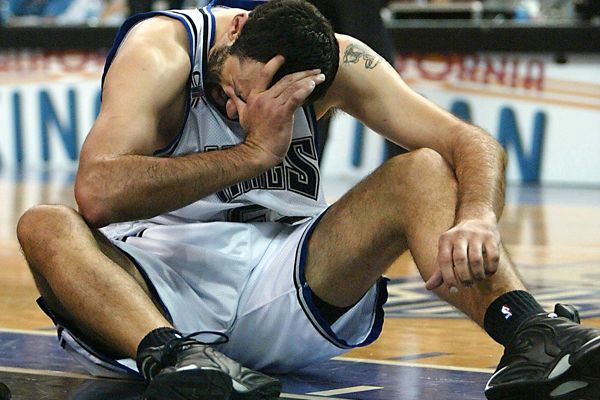 Nope:
From the Seattle P.I.

:

George Maloof, the owner of the Sacramento Kings, denied last week that the team is considering a move to Seattle. Sports Illustrated reported on its website that Maloof met with former Sonics minority owner Wally Walker and others recently.

Maloof told SI.com that the meeting in Seattle was to discuss the hurdles Sonics ownership faced in securing a new arena. Owner Clay Bennett moved the Sonics to Oklahoma City in 2008 after he was unable to secure an arena deal to his liking in Seattle.

"It had nothing to do with us moving the team," Maloof told SI.com. "It was more of a meeting to understand what their experience was as it relates to what we could do in Sacramento because it's very difficult to build arenas anywhere. That was basically the meeting."
If this
were
true, would you be interested in a second-hand team? Would your desperation to land a basketball team outweigh the guilt of stealing another team? After the way Stern treated this city, could you stifle your pride and play NBA musical chairs?
As much as I miss the Sonics, I'd sooner eat Jack Sikma's socks than screw over a community like Sacramento, that was once one of the best basketball towns in the country. As much as I enjoyed watching the Sonics kick their asses in the playoffs a few years back, no city deserves to go through what we did.