Monday, September 24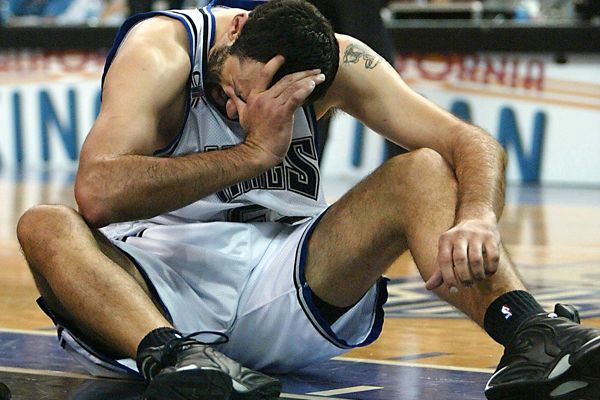 Seattle Supersonics fans know the pain of having a beloved team ripped from their home.
Four years ago, after being a Seattle institution for 41 years, the Sonics were shanghaied to the mid-south, never to be heard from again. Northwest basketball fans were devastated and many (like myself) vowed to never watch another NBA game again.
And yet, as
the Seattle City Council votes to approve a new stadium
to lure an NBA and/or NHL team here, I'm probably not the only one who has a Google alert set for "Sacramento Kings, Seattle".
With no expansion in the near future, to get Seattle back into the NBA country club, one must agree to a Faustian pact: to avenge your own heart being broken,
you must break another's
.
So it's with a stomach churning mix of optimism and self-hatred that I read the following report out of Sacramento this morning:
SACRAMENTO (CBS13) – It's a money meltdown for the Sacramento Kings as their biggest sponsor is splitting, and they're not the only ones.

One of the Kings' most loyal corporate sponsors is taking a bite out of the owners' already rickety revenue structure.

Carl's Jr. once touted them as billionaire brothers in an ad campaign, but now the fast food company tells CBS13 that its cravings for the Maloofs are over.

"Carl's Jr. is not seeking naming rights for the arena in Sacramento. While we have sponsored the Kings in the past, we will not be renewing our team sponsorship this season," a company statement read.

CBS13 has learned the Maloofs are only offering companies one-year sponsorship deals, no long-term commitments. As a result, some of the local companies who came together in a $10 million sponsorship pledge last year are also out.
Read the rest here.
One-year sponsorship deals. No long-term commitments. These sort of self-inflicted revenue wounds sound eerily familiar to Sonics fans, who remember Big Boy Bennett using the same despicable tactics to make it look like there was no support for the team in Seattle the year before they moved.
As a lifelong Sonics freak, I admit I'm excited about getting an NBA team. But as an empathetic sports fan who still feels the pain of having his team stolen away in the dead of night, this sort of story makes me more than a little queasy about our deal with the devil.
Thursday, September 13
Seattle Supersonics savior Chris Hansen is making fanboys swoon across the Northwest (he even wants to
buy you a beer tonight
!). I'm sure at some point the honeymoon will be over ("I can't believe that idiot traded Xavier McDaniel Jr. for Devlin Schrempf!") but for now, let's just bask in his wonderfulness , like a
70s teenager with a copy of Tiger Beat
.
Monday, September 10
UPDATE: Press conference at 9:30 this morning--stay tuned!
Chris Daniels at KING-5 News just broke the story
that investor/saint Chris Hansen and the Seattle City Council have apparently reached a deal on the new NBA/ NHL arena that could lead the way to the return/rebirth of the Seattle Supersonics:
SEATTLE – Multiple Sources confirmed Monday that a deal has been reached between the Seattle City Council and the investor group led by Chris Hansen on the financial terms that would put a new sports arena near Safeco Field.
A key, multi-million dollar concession by Hansen that could see his investor group spend more out of pocket to build the arena appears to have brought reluctant councilmembers onboard with the project. City Council members are expected to make an official announcement outlining the terms of the agreement on Tuesday.
Read the rest at
KING-5 News
.