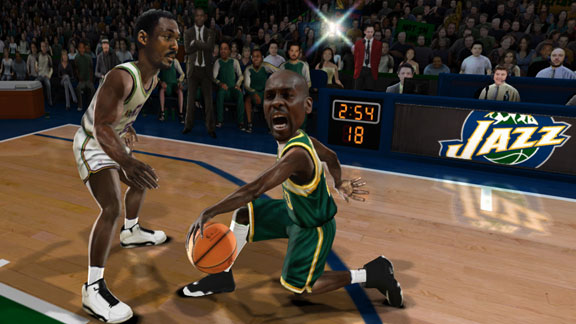 They did always say Gary had a big head.
The Seattle Supersonics are returning to the NBA . . . well, NBA
Jam
at least.
So when EA Sports announced the return of "NBA Jam" to consoles last year, old school gamers like myself couldn't wait to get our hands back on "Glove" and "Reign Man" for one last leap through the rafters. Only problem was, due to licensing issues, Kemp and Payton weren't included as legends in the game, causing much frustration and outrage among all the die-hard Sonic fans out there. Thankfully for gamers (and everyone else out there looking for more alleys and less oops), EA Sports and the NBA worked out their differences, and the team of Gary Payton and Shawn Kemp will be included in the upcoming downloadable title, "NBA Jam: On Fire Edition" for the PlayStation 3 and Xbox 360. "This is an important day for 'Jam' fans," says "NBA Jam's" creative director, Trey Smith. "We tried to get this Sonics team last year but it didn't quite pan out. And this is something the fans were screaming for. This was at the top of their list, and that's a big deal to us. When we were creating 'NBA Jam: On Fire Edition' we wanted to listen to the fans, and everyone who played the game last year had one question: Where are the Sonics. "They are the quintessential one-two punch in 'Jam,' and if I'm playing hyper-competitively, this is how I roll."
Read the rest of the story at ESPN.com