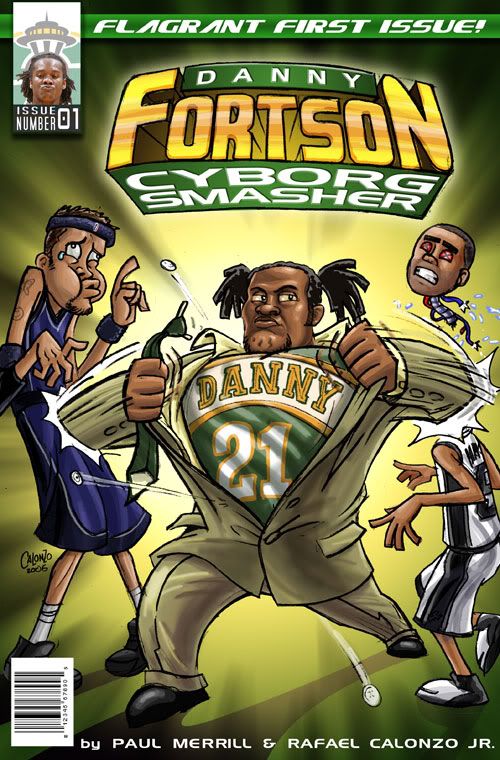 Do you remember
Danny Fortson
and his wonderful, crazy, maddening 2004-05 season? If you're a Sonic fan, of course you do. I think the prevailing memory for NBA fans of Fortson (for those who remember him, anyway) is that of a thug, but he was much more than that.
For that season (and much of his career, really), Fortson was a foul-drawing, foul-inducing, efficiency machine. Yes, his hate-hate relationship with officials was tough to digest and severely limited his minutes, but on the offensive end the man was a joy to watch, drawing fouls at a ridiculous rate, and converting at the foul line at an equally marvelous percentage. Check the numbers (all per 36 minutes of play):
Personal Fouls: 9.1
Free Throw Attempts: 8.9
Free Throw Percentage: 88%
It's crazy, right? The stereotype of a guy who draws nine fouls per 36 minutes is that of an undisciplined and bruising power forward, someone incapable of making more than half of his free throws, let alone nearly 90%.
In fact, if you look it up, here's the list of players in NBA history to have averaged eight fouls and eight free throw attempts per 36 minutes, while shooting better than 80% from the line, and playing more than 500 minutes (I call it the Rule of 8, or Da Fortson Club):
Danny Fortson, 2004-05
And that's it. In fact, you have to slide the requirements down to seven fouls and seven free throw attempts per 36 minutes, and a 70% free throw percentage to even find two other players who qualify, and they were playing during the Eisenhower administration.
You could say many things about Danny Fortson – lovable bruiser, offensively gifted thug, efficient hacker – but he is without peer in NBA history when it comes to drawing fouls, dishing fouls out, and converting at the charity stripe.