Ray-Ray with the Cleveland High boys basketball team.
So, not much to report from supersonicsoul land. But there's plenty going on with our hard-working pals at
Save Our Sonics & Storm
.
As you may know, these folks have been a presence at the last Storm games, the Sonics Legends Tour events, a KJR fundraising thingy, probably the Seahawks and Huskies games too. I have been helping out, as best as a hermit can, on the promo side by creating signs and stuff for them to hand out at games and PR events.
I haven't been able to see the signs "in action" myself, so when I saw the following pictures of SONICS LEGENDS holding them I was knocked out of my socks.
(horked from kjram.com and
sonicscentral.com
):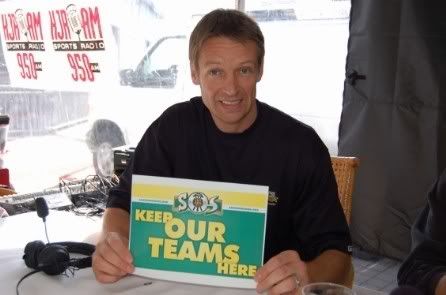 Dude, the way I freaked when I saw these, you'd think they were pictures of me throwing an oop to Kemp in the 96 Finals. This might be the closest I'll ever get to that.