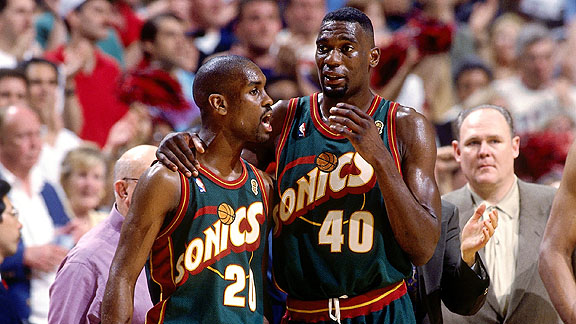 As this year's NBA Finals wind down,
Percy Allen takes a bittersweet look back at the last Finals I actually cared about
, the epic 1996 Sonics/Bulls battle. Nate McMillan gives a heartbreaking "should-woulda-coulda" breakdown of the series:
Unable to play because of back spasms, McMillan took a cortisone shot before Games 4 and 5 to relieve the pain. The Sonics won both games and forced the series to return to Chicago.

It was the last time McMillan would play, as Seattle fell 87-75 in Game 6.

"You go your whole career playing basketball and now you have this opportunity to be on the biggest stage in your life — it doesn't get any better than this — and you can't play," McMillan said. "Why? I just kept asking God why. I know that if I could play — had a little confidence at that time in my career — I could have an impact.
Sigh . . .
Read the whole story
at The Seattle Times
.