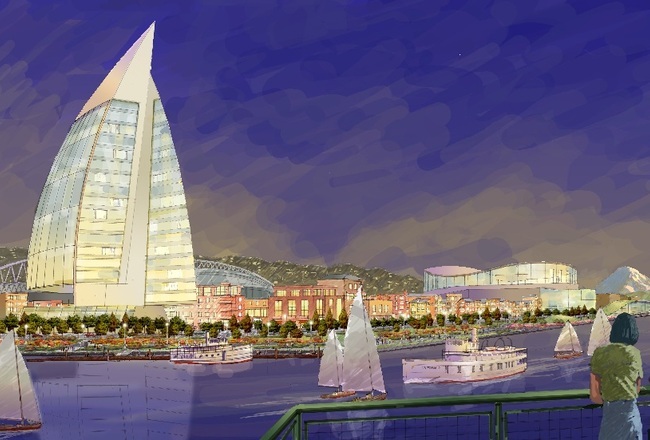 This plan not only served as a basketball arena, but also an Imperial Shuttle for Darth Vader.
As Seattle and Sacramento both ramp up plans to build new NBA arenas, it's easy to forget how many times we've been down this road before. After all, Seattle is a town lousy with failed dreams and broken promises. From an
extended monorail
to a
refurbished waterfront
, we have rarely seen a good plan that wasn't worth killing with fire.
The Sonics have an especially bleak history of unfulfilled plans. During their 41 year residency, the Supes were often basketball vagabonds, couch surfing around the Puget Sound with stops at the old Coliseum, the Kingdome, the Tacoma Dome and even Hec Edmundson Pavilion, an old gym even
too small for the University of Washington Huskies
.
Fed up with the leaky roof and meager seating of their Seattle Center digs in the late 80s, former owner Barry Ackerley came close to sealing a deal for a new stadium. SeaFirst Arena of Seattle was to be built near the Kingdome and, like the current stadium plan, got the
approval of the City Council
before getting derailed by a parking dispute with (you guessed it)
the Mariners
. Ackerley was so frustrated by the lack of progress that he officially
filed for relocation in 1990
.
Luckily, cooler heads prevailed and Ackerley finally settled for a refurbished Coliseum, sparing us the indignity of watching the Kemp/Payton era unfold with the San Diego Sonics (shudder).
Another forgotten arena aberration took place more recently. In 2008, we were all going a little crazy about our team getting hijacked. And none went crazier than Seattle Supersonics legend Downtown Freddie Brown, who proposed
one of the most ambitious/insane/awesome arena plans in the history of anything
. This thing had everything. An interchangeable basketball/hockey court, retractable roof, waterfront view and, of yeah, it only cost ONE BILLION DOLLARS!
Sure, this place was total vaporware and had zero chance of ever being built, but can you imagine how awesome it would have been to see Squatch waterskiing in Puget Sound during halftime or
Danny Fortson paragliding off a ferry onto the court before every game
?
But alas, this was yet another Seattle sports pipe dream. And like Ackerley's arena before it, it serves as a warning to desperate fans in Seattle and Sacramento: don't count your weird,
bundt cake-shaped arena
before it's built.