22 years ago today, the Sonics and the Milwaukee Bucks did what all teams do when they have disagreeable superstars – they swapped them.
And so it was that Ricky Pierce and Dale Ellis – two of the shootin'-est shooting guards in NBA history – wound up trading uniforms on February 15, 1991 in a straight-up, no-blinking trade that seemed more at home in a fantasy league than in a real one.
The reasons for the trade were, naturally, both financial and emotional. Per
The Seattle Times
, Ellis had become dissatisfied with his usage under new coach KC Jones, while Pierce was frustrated with Milwaukee's foot-dragging in contract negotiations.
(Want to feel old? Try this on for size – Pierce's deal was for $1 million a year. He was looking for something north of $2 million.).
With the benefit of hindsight, we can attempt to figure out who won the deal.
Oddly, even though I've always assumed the opposite, Pierce wasn't that much older than Ellis (perhaps it's because Ricky Pierce was already 31 when he was born). In any event, neither player wound up lasting too long in their new homes. By 1992, Ellis had been dealt to San Antonio, while Pierce lasted until 1994 before being traded to Golden State. Pierce – famously – bickered with new star Gary Payton during the infamous Denver Nugget Debacle in the 1994 playoffs, a not insignificant coincidence with his trade later that summer.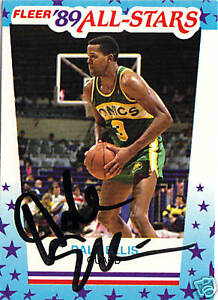 The two subsequent moves offer one opportunity to judge how the players turned out post-trade. Here's how they worked out:
To San Antonio: Dale Ellis
To Milwaukee: Tracy Murray (a first round pick that year with the 18th overall selection)
To Golden State: Ricky Pierce, Carlos Rogers, 2 2nd rounders
To Seattle: Sarunas Marciulionis, Byron Houston
It's difficult to say who's valuation was higher. Sarunas was coming off consecutive 17+ ppg seasons, but Rogers was an 11th overall pick that helped to sweeten the deal.
Statistically speaking, both players enjoyed long and productive careers, with Ellis even returning to Seattle nearly a decade later (and leading the league in 3-point percentage at the ripe old age of 37!).
Post-Trade Win Shares
Ellis: 42
Pierce: 29.6
Post-Trade PER
Ellis: 142.7
Pierce: 132.6
Ellis gets a slight edge, but a chunk of that gets erased by the fact he played an extra season relative to Pierce. In all honesty, both players contributed at high levels immediately after the trade, and while Ellis' numbers were slightly higher, that could be balanced by the fact Pierce started more playoff games in one season (1993) than Ellis did in the entirety of his post-trade career.
Clear winner? None.