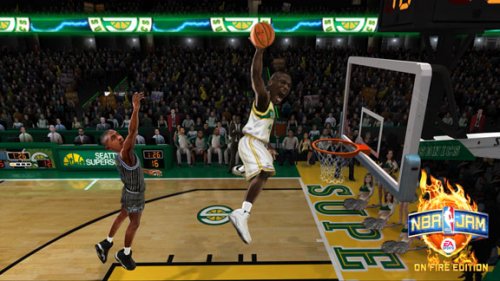 According to the Kent Reporter (and my brother), Shawn Kemp will be making an appearance at a fund-raiser for K-M basketball this weekend. Also, SHAWN KEMP LIVES IN MAPLE VALLEY?!?
Marvena Kemp says it's doubtful her husband Shawn Kemp will play in the inaugural Hoopfest at Kent-Meridian High School.
"He might but I doubt it," Kemp said about the former NBA player who lives in Maple Valley. "He's rehabbing from flag football. But he will come out to support it."
Teams can still sign up for the Dec. 3-4 event. Games will run from about 9 a.m. to 6 p.m. each day. Proceeds will benefit the Kent-Meridian girls basketball team to help pay for uniforms , travel to tournaments and other expenses.
Read the whole story here.
The fact that Shawn Kemp now lives in the small town that all three of the Supersonicsoul writers grew up in is my nomination for Ironic Twist of The Year. If he ends up coaching at Tahoma, I might explode.