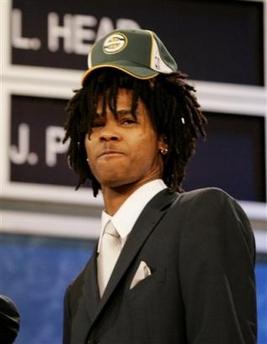 With this season drawing to a close and the playoffs merely a dream, I'm sure everyone is looking forward to next season. In amongst the draft hype of who the Sonics will pick this spring, you've got to wonder about the current roster, as well as people like
Mickael Gelabale
.
I know what you're thinking: What's a Mickael Gelabale? Well, he's a 6'8" SG/SF with a massive wingspan who can hit jump shots, play tough defense, and handle the ball on occasion. He's also a possibility for the Sonics' roster next season after being drafted in the 2nd round last spring.
Currently, Gelabale is playing for
Real Madrid
in the
European League
, where he averaged 8 ppg in about 23 minutes during the regular season. Of note, he shot close to 50% from the field, including nearly 40% from 3 point range and 77% from the FT line. (Coincidentally, one of his teammates at RM is former Sonic tryout and ex-Duck Alex Scales).
Gelabale played solid minutes during the regular season, posting double-digits in scoring seven times, but has yet to reach double figures in the post-season, which is going on as I write this. In all honesty, his stats regressed from the previous year with Real Madrid, but it seems to be more of a fewer minutes situation than anything else.
Gelabale is like a combination of Damien Wilkins and Desmond Mason if you ask me. He can block a few shots, hit the occasional 3, hit his free throws, and play good perimeter defense. He's hit a high percentage of his shots in the Euro league, but I'm curious if that's because he's able to get separation from people over there – something he would have more difficulty doing in the NBA. It's worth noting that one of his teammates at RM is Louis Bullock (former Michigan star), who regularly scores 20+ points in the Euro League (just to give some frame of reference to Gelabale's stats).
In reading about Gelabale, one nice thing about him that emerges is that he's not the kind of player who forces a shot, something which would work to his advantage in Seattle. He's never going to be option #1 or even #2 on offense as a Sonic, so if he can lay back and wait for his shot he can be effective, sort of the way Damien was last year in the playoffs. As someone who can slash to the hoop, hit 18-foot jumpers, or come off screens, Gelabale can score in the NBA. Whether he can hit the NBA 3 is yet to be seen. As a bonus, he has played the point on occasion for Real Madrid, and showed the ability to handle the ball with decent ability.