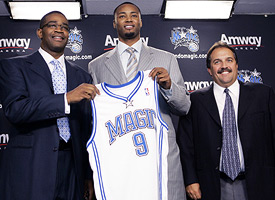 On what should have been the happiest day of his life, Rashard Lewis instead heard his name dragged through the mud all over the internet yesterday, on the heels of signing a six-year deal with Orlando. From Bill Simmons to every blogger on the planet, Lewis couldn't turn around without reading how ridiculous the Magic were for giving a punk like him so much money.
And while it's fashionable to say that the Magic overpaid Lewis, that Lewis is a one-dimensional player who isn't even that good at the one dimension, that Orlando is going to be handicapped in the future by the combination of Lewis and Howard's contracts, allow me to say one thing:
Rashard Lewis is not a limp-wristed, shoot-only player whose contract is the worst in the history of professional sports. Rashard Lewis is a solid player who rarely if ever gets hurt, who doesn't complain about minutes, shots, or anything else, and who is the perfect fit alongside Dwight Howard.
It's true, Rashard is not a good defender. Heck, he's barely an average defender. But the man is 6'10", can handle the ball, can post up, can hit 3's, and can score in transition. How many guys do you know who can do all of those things today in the NBA? 2? 3? 5?
Yes, Rashard is going to be wildly overpaid, especially at the end of his contract. But he's only 27 years old and has at least 3 to 5 more years of peak productivity before his skills begin to decline. In other words, barring an unforeseen injury, he will give the Magic what they are expecting for the majority of his contract.
In my mind, that's the crucial issue. After all, what's worse – to pay Jerome James $5.4 million to score 1.9 points per game, or to pay Rashard Lewis $15 million to score 23? Is giving an all-star small forward max money worse than paying Adonal Foyle $9 mil a season to do whatever it is he does? Is Lewis' deal worse than Raef LaFrentz'? Steve Francis'? Say what you will about Lewis, but the man is not a clubhouse cancer that will bitch to anyone who listens that he ought to be the star of the show.
Fine, the Magic overpaid Lewis, and his max salary will hurt the team's flexibility in the future. His defense is weak, and he's not the best rebounder in the history of basketball. But if I'm giving max contracts to people,
I can do a lot worse
than Rashard Lewis.